Create and Transform Digital Journeys
Consumers today demand seamless digital experiences, while service providers need to optimize customer communications through digital channels. At CustomerMinds, our unique web-based customer communications platform Which50 allows you do both and a whole lot more. Your customers get a fully digitised experience at every stage of their journey, and your company lowers costs, increases internal efficiencies and enhances compliance – and all from one platform.
Our feet on the ground in Australia & New Zealand
We are proud to introduce our dedicated ANZ representative – Ignite Partners. Founded by David Eccles and Ray Fleming, both ex-Enterprise Ireland and with broad connections in the local business community, Ignite supports the entry and scale of tech companies in ANZ. With their fully integrated sales partnership model, Ignite is more than just a reseller. They are a part of our team, advising us not only on sales opportunities and business development, but their years of experience and connections locally mean that they can act as guide to CustomerMinds on product development specific the needs of the ANZ market.

A Digital Communications Platform with Purpose
Our cloud-based platform offers a range of features and functionality designed to make customer communications easier and more efficient than ever before. Seamless integration combined with ease-of-use and agility to deliver a solution specifically-built to handle the customer communications challenges faced by companies in highly regulated sectors.
Finance

Telecoms

Utilities
Energy Australia were able to switch 55% of their customers from paper based communications to eBills
Lower Costs and Optimise Customer Experiences
You can now deploy one singular platform to transform digital customer communications. Which50 can help you drive down operational costs while at the same time, optimising the everyday digital experience for your customers.
Reason 1

Which50 allows you minimize operational costs by eliminating postal deliveries where possible. And with no manual processes involved, you'll save time and resources too – and streamline internal operations.

Reason 2

Today's consumers are digital natives or have been using technology for many years in their daily life. By reducing the volume of paper sent to them, they'll be a whole lot happier with you as a service provider. And no more paper means a commitment to the environment too.

Reason 3

In an era of GDPR and data privacy, compliance and regulatory standards have never been higher for companies in consumer-facing sectors. Which50 gives you full visibility over all your communication compliance requirements.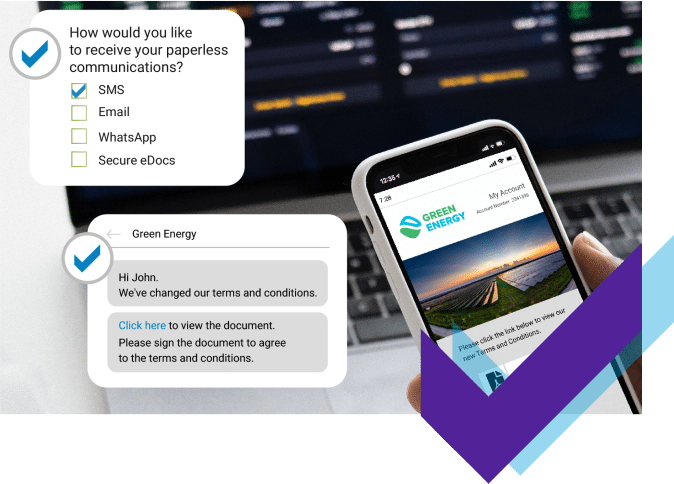 Connect with Customers
Our unique customer communications platform is designed to meet the needs of businesses in highly regulated sectors like Financial Services, Telecoms, and Utilities. With specific functionality for two-way communication built-in, Which50 can help you easily connect and engage through a range of digital paths.
Email
From customer on-boarding to regulatory communications and more, you can communicate directly with your customers through the Which50 platform. Customisable 'No-Code' templates and point-and-click segmentation capability ensures campaigns can be prepared and despatched with ease.
Webforms
Getting customers to submit details and provide information or feedback is much easier in digital formats. With Which50, you can create smart, dynamic web forms and prompt your customers to complete them with speed and agility.
Edocs
Whether it's direct debit mandates, invoices, or other important documents, you can also handle these through Which50. Our platform can help you send and receive these digital documents through a highly secure two-way process.
Messaging
Which50 can help you connect with your target audience through flexible and short formats like SMS and WhatsApp. And this is important for both short timely messages to customers and for passcodes to access secure sites or documents.
Learn how CustomerMinds can help organisations in Australia & New Zealand optimise their digital customer journeys
Innovative Client Interface
One intuitive interface gives you access to all the insights you need when it comes to customer communications and campaigns. You can access our 'No-Code' build-and-design tool based on 'What you see, is what you get principles'. Segmentation is also easy to apply, while Reporting and Analytics functionality deliver a new level of visibility on all aspects of your digital customer communications.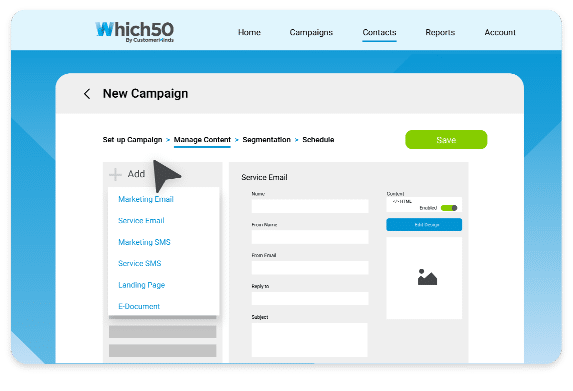 How CustomerMinds can help your business
Meet Ignite Partners to Learn More
DAVID ECCLES
Director
David has 20 years of experience in enterprise sales, community development and international trade.  
Until 2023 David was the ANZ Director for Enterprise Ireland, the Irish Governments venture capital and trade development arm.  He managed teams in Sydney, Melbourne, and Auckland to assist with market entry and scale for 600+ companies.
Prior to Enterprise Ireland, David had a career in the management of workforce management teams in Ireland and Australia, as well as Enterprise Sales with IBM.
RAY FLEMING
Director
Ray has over 2 decades of sales and general management experience in Australia and Ireland. While running the Digital Practice at Enterprise Ireland, Ray has supported over 40 companies with their market entry to Australia and the broader APAC region.
Prior to EI, Ray's roles spanned consulting & sales, mostly within staffing, human capital, and workforce management. As well as being a successful individual contributor, Ray spent over 10 years starting, leading, and growing businesses throughout APAC.
Learn how CustomerMinds can help optimise your digital customer journeys