Delivering Proven Digital Solutions for Financial Services
Today's consumer expects service providers to deliver on their digital terms. As a company in the financial services sector, you know that managing these digital expectations in your highly regulated environment can be a real challenge. The right customer communications platform can create a genuine digitised experience for your consumer – while also offering major savings in operational costs and increased efficiencies within your business.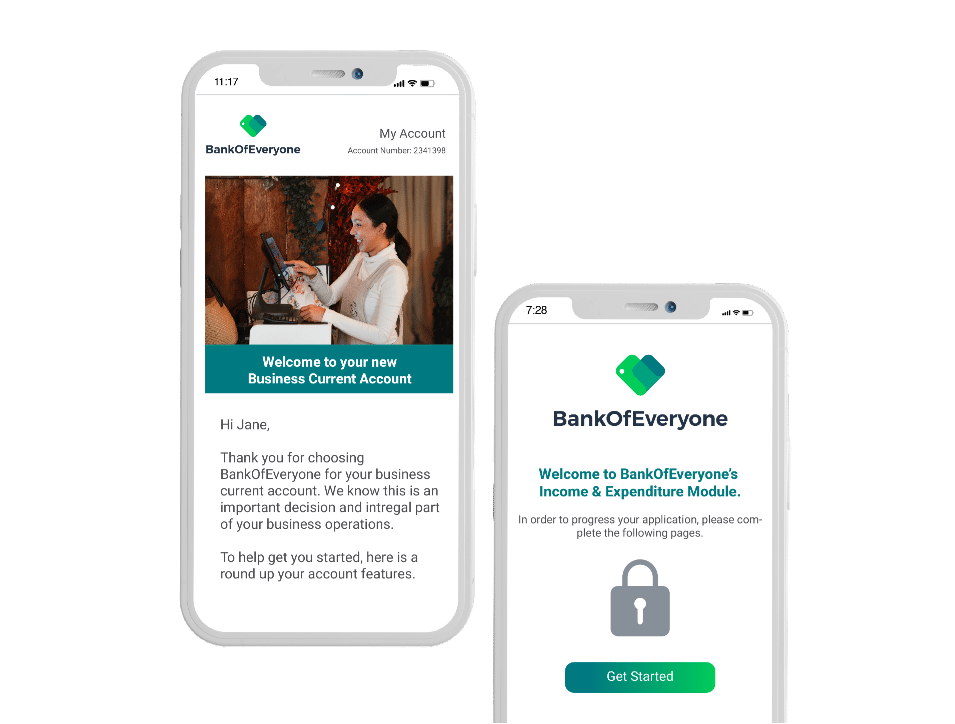 How we help Financial Services companies
At CustomerMinds, we have worked with a range of blue-chip, international brands in financial services for many years, delivering advice, expertise and solutions for digital transformation. In addition, we are fully registered on the FSQS supplier qualification system, which is supported by major UK banks including Lloyds, Santander and TSB.
The insight we have gained has allowed us to develop Which50, the first customer communications tool for companies in this highly-regulated sector.
Now you can create personalised digital journeys from one centralised platform for each stage in the customer lifecycle including marketing, onboarding, customer service, billing and retention.

Features for Financial Customers
Our cloud-based platform has a range of features developed with the Financial Services sector in mind.
Save time and money

By replacing traditional postal letters with digital versions, Which50 allows you save time and money by reducing your 'Cost to Serve' while delivering a better customer experience.

Enhance security

You can securely provide paperless options for delivering statements and other documents containing your customers' personal and financial information. Two-factor authentication allows your customers access secure files online with a unique SMS code.

Help vulnerable customers

Accurately identify and engage with vulnerable customers by creating bespoke customer journeys. You can offer alternative methods of payment to financially at-risk customers and provide them with opportunities for two-way communication.

Tailor application journeys

End-to-end loan application journeys can be designed leveraging dynamic web pages with two-way communication via Email and SMS/WhatsApp messaging. This enables customers to apply for a loan whenever and wherever they want by creating these highly customised journeys.

Automate onboarding

You can easily automate welcome journeys for new customers. This allows you engage new customers by creating personal consumer communications at scale across digital channels.

Convert new leads

By seamlessly capturing and converting new leads across digital channels, you'll be able to easily convert prospects through data capture forms online that trigger follow-up communication.
Learn how CustomerMinds can help optimise your digital customer journeys
Why do the world's top financial institutions choose Which50?
Our focus is on delivering operational efficiencies to Financial Services companies and helping them creating exceptional digital customer experiences. You'll be in safe digital hands with CustomerMinds and our platform Which50.
Reason 1

By focusing on a digital-first approach, we can help you minimise and possibly eliminate customer correspondence on paper. This will reduce cost and optimise resources for back-end teams.

Reason 2

Your teams will love working with an easy to use interface which allows them create and manage campaigns with ease. As a web based platform, it can be deployed on existing infrastructure with no integration issues.

Reason 3

So many of your customers are digital natives or have high levels of digital literacy. They prefer fully digitised customer journeys in what were once seen as traditional sectors like Financial Services.