Customer Engagement for the Water Sector
Which50 is a cloud-based digital communication platform designed to help water companies engage with their customers while complying with key regulatory standards. Digital journeys can be quickly and easily developed using powerful 'No Code' functionality to build trusted relationships with customers by integrating marketing and customer service workflows. The platform can be integrated with existing customer databases and legacy platforms, ensuring a fully digital experience for the customer while providing lower operational costs and increased efficiencies for internal marketing and servicing teams.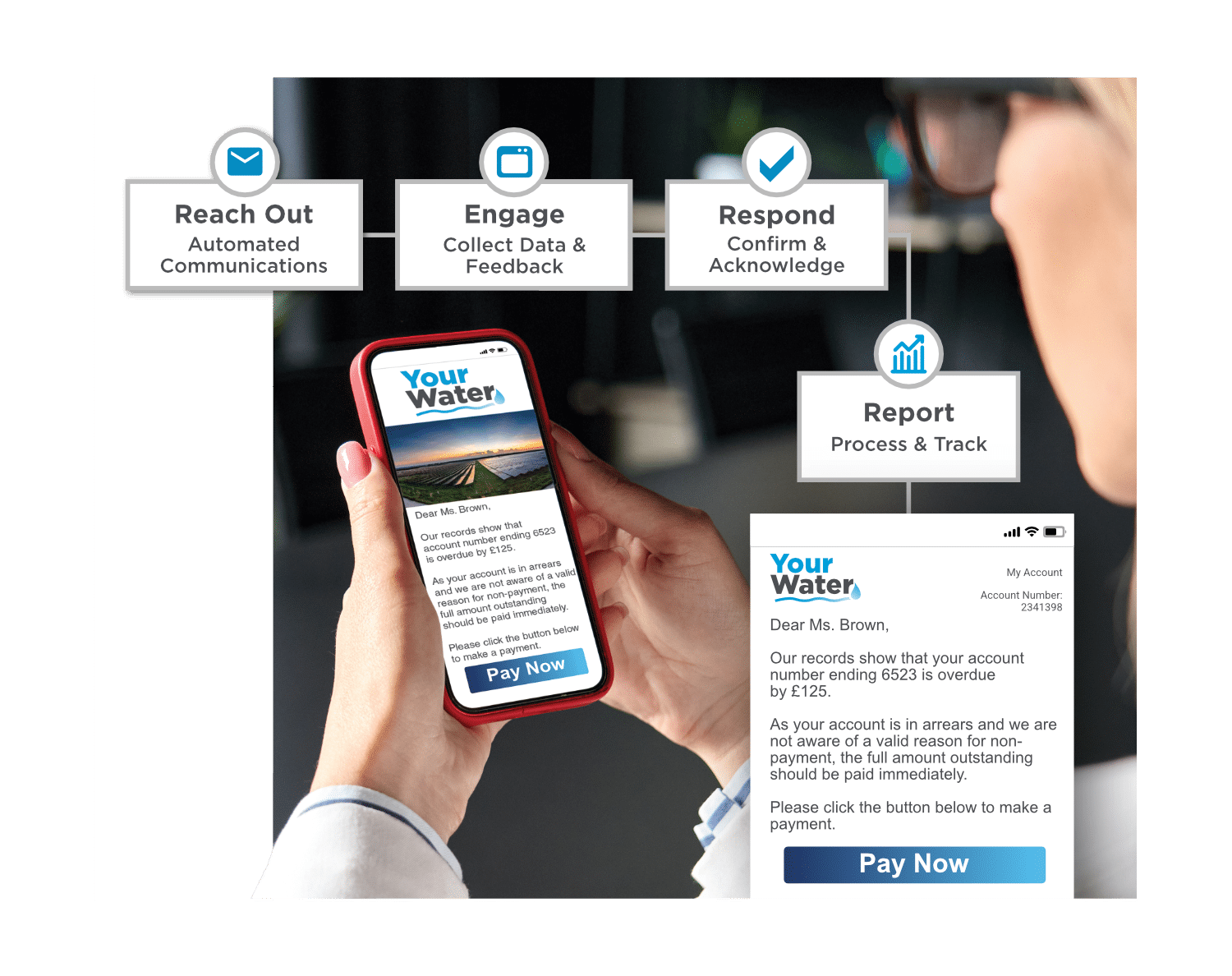 Why does the Water Sector choose Which50?
Our focus is on delivering operational efficiencies to the Water sector and helping create exceptional digital customer experiences. You'll be in safe digital hands with CustomerMinds and our Which50 platform.
Reason 1

By focusing on a digital-first approach, we can help you minimise and possibly eliminate customer correspondence on paper. This will reduce cost and optimise resources for back-end teams.

Reason 2

Two-way communication with customers is enhanced using their preferred communication channels.

Reason 3

Rich data and feedback from customers can be used to craft future communications and targeting for water services.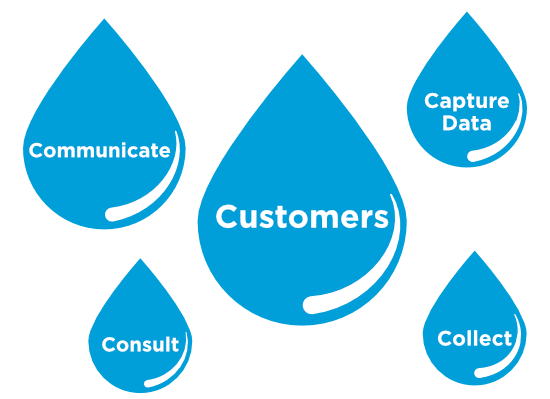 What our valued clients are saying about the Which50 platform
"We had great success using multi-channel communication to maintain the vital Priority Services Register for our vulnerable customers. Thank you CustomerMinds for your excellent support and know-how!!"
Bob Taylor, Chief Executive Officer at Portsmouth Water
Benefits for the Water Sector
Our cloud-based platform has a range of features developed with the Water sector in mind.
Save time and money

By replacing traditional postal letters with digital versions, Which50 allows you save time and money by reducing your 'Cost to Serve' while delivering a better customer experience.

Enhance security

You can securely provide paperless options for delivering statements and other documents containing your customers' personal and financial information. Two-factor authentication allows your members access secure files online with a unique SMS code.

Help vulnerable customers

Accurately identify and engage with vulnerable customers by creating bespoke customer journeys. You can offer alternative methods of payment to financially at-risk customers and provide them with opportunities for two-way communication.

Tailor customer engagement journeys

End-to-end engagement journeys can be designed leveraging dynamic web pages with two-way communication via Email and SMS/WhatsApp messaging. This enables customers to avail of services whenever and wherever they want by creating these highly customised journeys.

Convenience and time savings

You can easily automate journeys for customers who are keen to avail of digital communication. This allows you engage customers by creating personal communications at scale across digital channels.

Prompt issue resolution:

Receive faster responses and resolutions to queries through efficient digital communication channels.
Portsmouth Water were able to surpass their regulatory targets for engaging vulnerable customers on the Priority Service Register in a fraction of the time and cost
5Cs for the Water Sector
Customers are at the heart of what we call the 5Cs for the Water Sector.
1. Customer
The Customer is at the heart of what we call the 5Cs for the Water Sector, alongside the key pillars of Communication, Data Capture, Consultation, and Collections. By leveraging the power of digital journeys built within Which50, water companies can create personalised experiences for each pillar, streamlining internal processes and delivering seamless customer interactions and outcomes.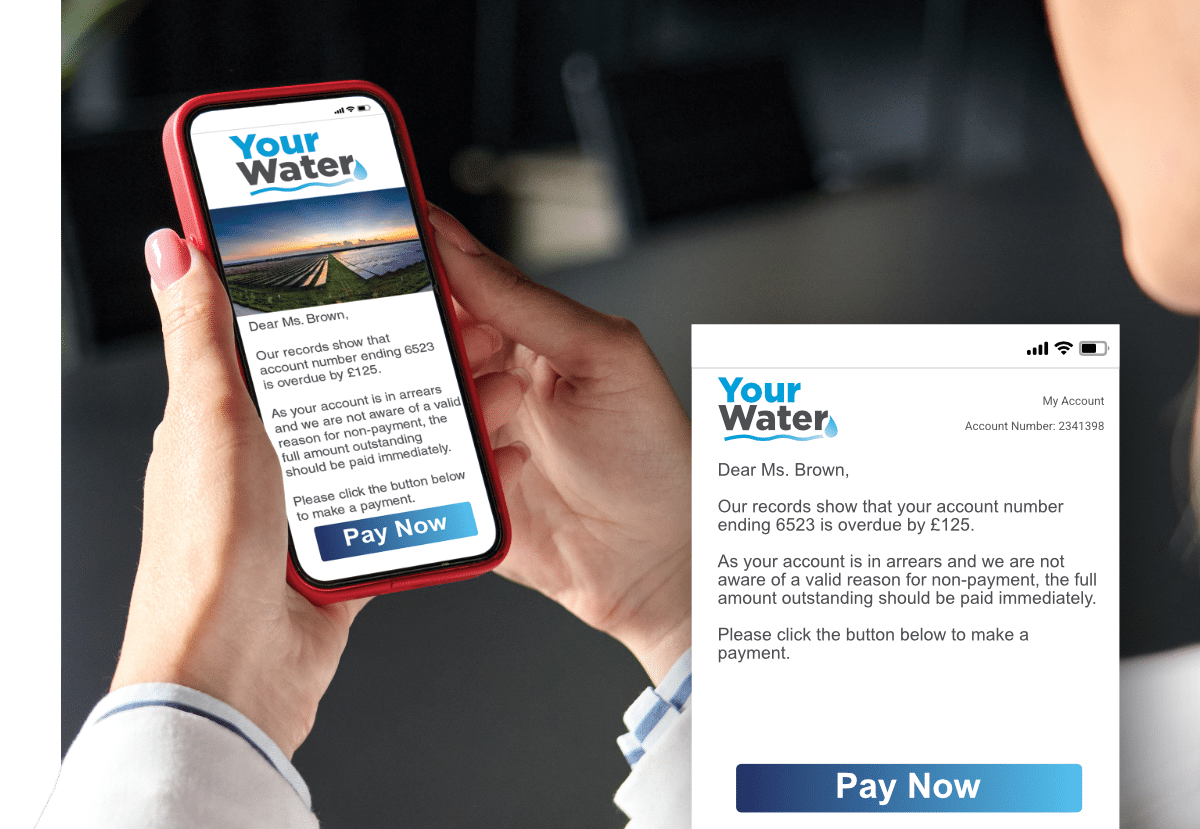 2. Communicate
Engage proactively and effectively with customers to educate and inform them on key topics of interest. Promote certain solutions and offers and provide online sign-up capabilities. Deliver automated, branded communications across multiple channels including digital and print. Leverage QR codes to promote 'switch to digital' options to drive
sustainability targets.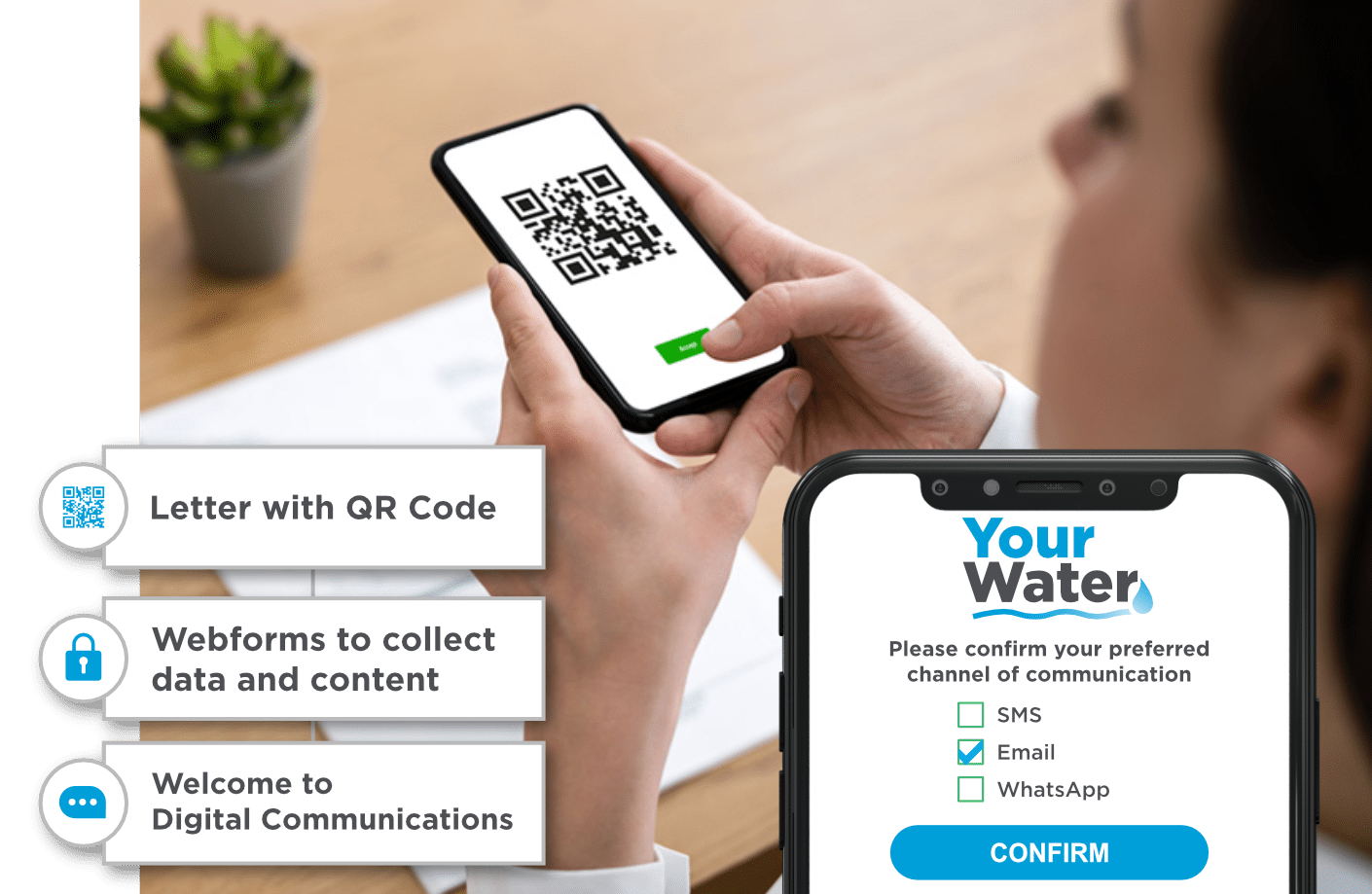 3. Capture Data
Simple setup of engaging webforms to collect data and documents. Forms can be pre-populated with existing data where appropriate to streamline the data capture process for the customer. Multi-Factor Authentication (MFA) can be easily deployed if sensitive data is displayed or captured within the form. Documents can be easily uploaded by the customer using the DocUpload functionality built into Which50.
4. Consultation
Engage and connect with customers to get their input and feedback on key issues and initiatives. Self-service 'digital outreach' via choices/surveys that customers can fill in without the need for physical meetings. Automated reminders and follow-up messages can ensure that all customers have been contacted enabling regulatory outreach targets to be achieved. Multi-channel delivery across both digital and print to suit each customer's preferred method of communication.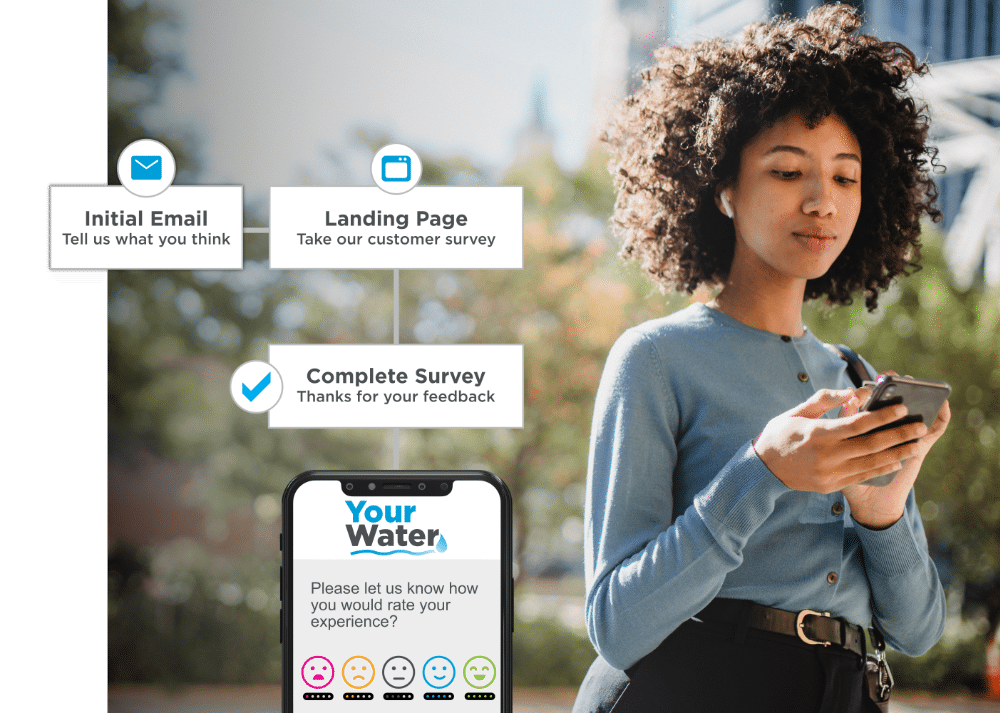 5. Collections
Migrate from paper to digital billing to support environmental and cost targets. Flexible payments can be offered to customers via 'self-serve' digital journeys. Engage sensitively and effectively with customers to collect overdue payments where possible. Accelerates payments and cashflow for organization and reduces traditional contact centre and postage costs.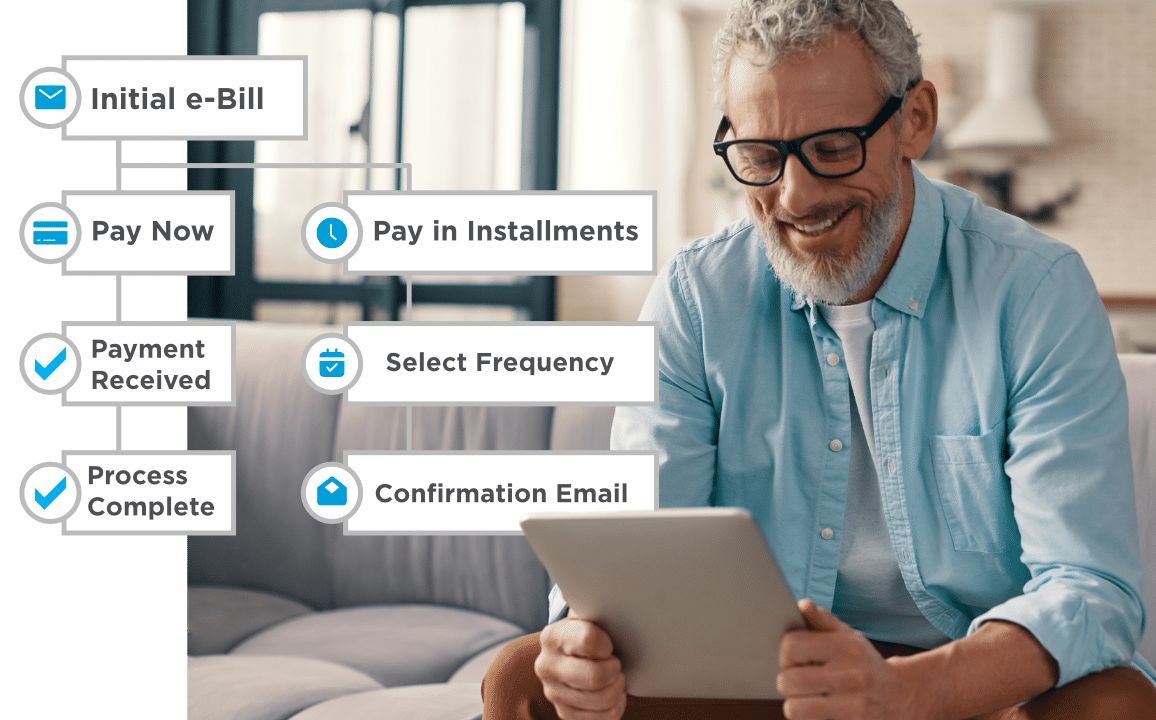 Learn how CustomerMinds can help optimise your digital customer journeys with our Water Sector Flyer
Customers Testimonials
What others say
With clients around the country, CustomerMinds is very active in the water sector. We are pleased to share what they have to say.
Portsmouth Water
"We were conscious we needed to partner with an organisation that would help us maintain our exceptional service to customers, whilst achieving the performance commitment in an efficient and automated way."
Portsmouth Water
"We had great success using multi-channel communication to maintain the vital Priority Services Register for our vulnerable customers."
Water Sector Strategic Advisor
"By using targeted messaging and automated alerts, water companies can ensure that all customers receive timely and relevant information about their services, I would very much hope that this technology becomes the norm for AMP8 and beyond…an agile approach is needed."