Robust Advanced Customer Experience Analytics and Reporting
Customer Experience Analytics and Reporting are essential to understanding the effectiveness of a communications campaign. This is a major priority for marketing and customer service teams in sectors like Utilities, Financial Services, and Telecoms. Which50 from CustomerMinds provides a centralised insight and reporting tool for all your digital journeys, whether marketing or operational. This level of real-time insight enables informed decision-making.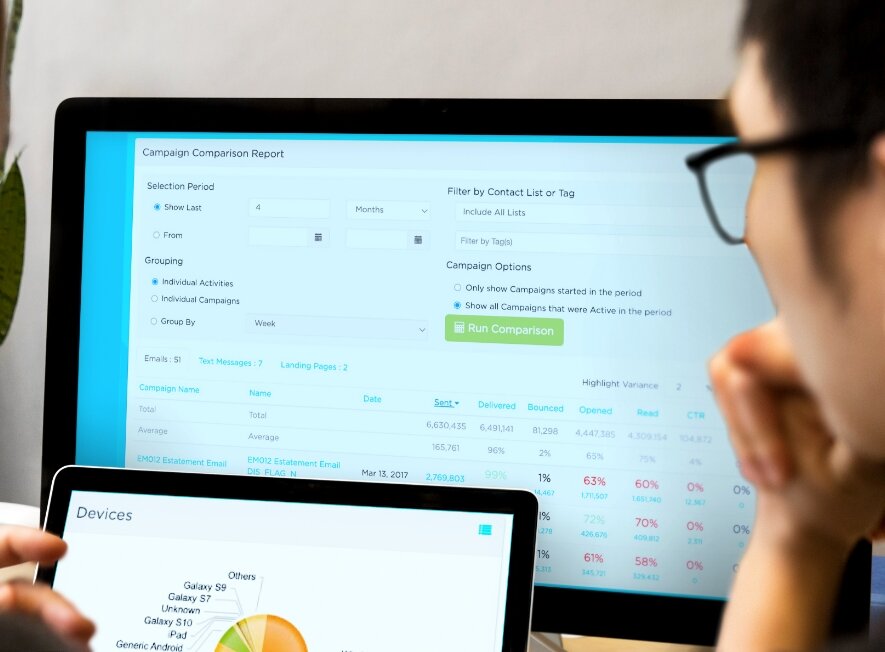 How reporting and customer experience analytics can help your business
Now more than ever, ROI is a key metric in assessing the success of your customer communications campaigns. Which50 can you give you visibility of all of your campaigns in one view, across different channels and systems.
Reason 1

Now you can efficiently measure campaign performance and customer engagement with comparison reports across all of your digital channel activities. This allows you track both marketing and operational messages across one single view.

Reason 2

Both standard and custom reports are available within the platform. In fact, reports and subscriptions can be set up for data extract reports so that they are sent out to a list of recipients at agreed intervals or transferred using API or SFTP.

Reason 3

All of the data tracked in Which50 can be transferred into any data visualisation or business intelligence platform using approved secure data transfer processes. These include API, SFTP or Robotics, that we can set up quickly and easily between your company and CustomerMinds.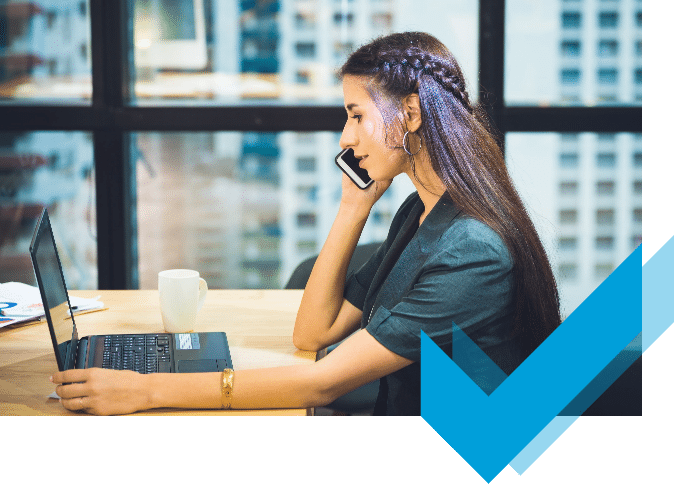 Data Management Features
Measure the success and impact of campaigns
Through our cloud-based customer communications platform, Which50, we'll help you create and deliver best-in-class reports and insights.
User Friendly Analytics
Which50 offers your teams a clear and simple user experience, with a streamlined dashboard that gives a snapshot view of campaign success, at the click of a mouse. Tools, capabilities and technologies are carefully designed to allow fast and efficient navigation, leading to impactful decision-making with accuracy and conviction.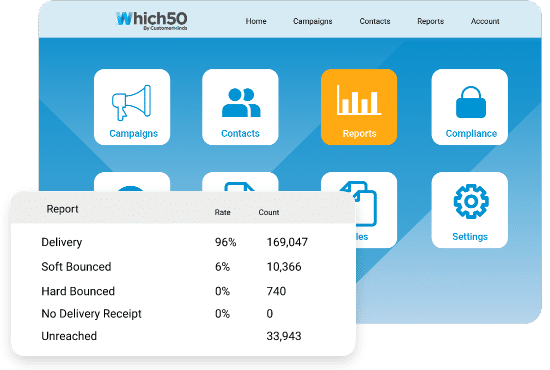 Single View
Large organisations in Telecoms, Financial Services and Utilities have often depended on separate systems and data sources where integration can be a problem. Which50 gives you the major advantage of having all information relating to all campaigns in one handy location. This makes it easy to track marketing and operational messages across one view.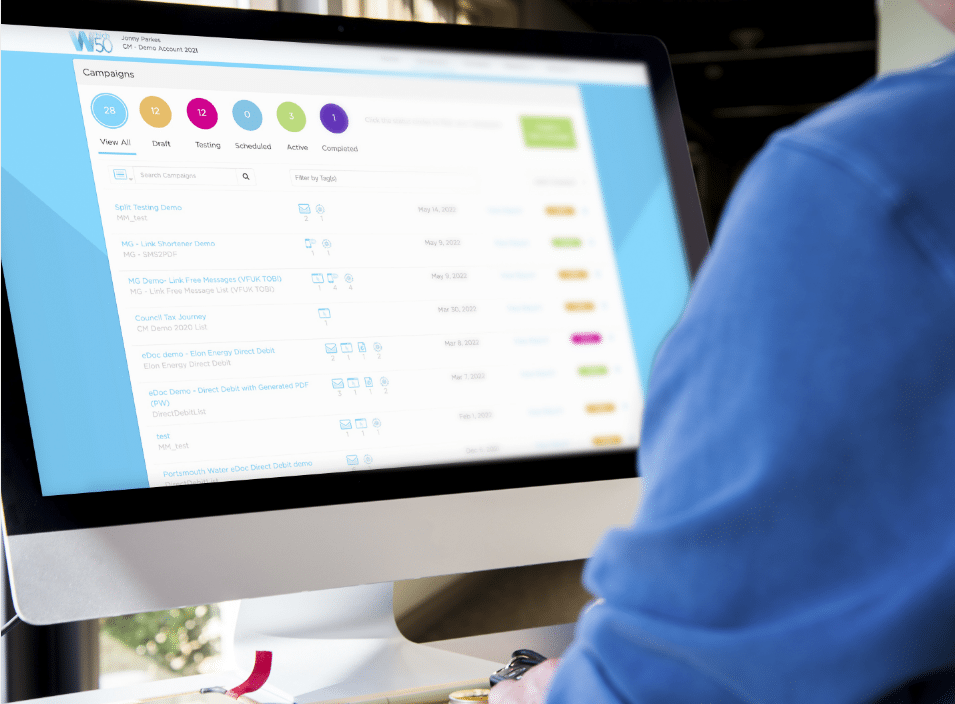 Detailed Insights
Which50 is the most comprehensive customer communications tool on the market, delivering a new level of tracking and insights. On complex campaigns, even the smallest details can make a major difference to future planning and execution. By tracking tiny, but crucial details and capturing trends, you can do real analysis based on 100% accurate data.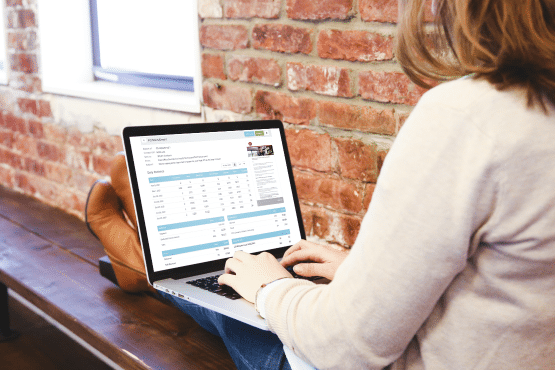 Real-Time Data
Modern communications demands real-time accurate insights and decision-making. Which50 makes all data available in real time. So, as soon as your customer clicks on a link or uploads a document, you'll be notified and will be able to see it in the platform, offering real-time insights, enhancing immediate decision-making as required.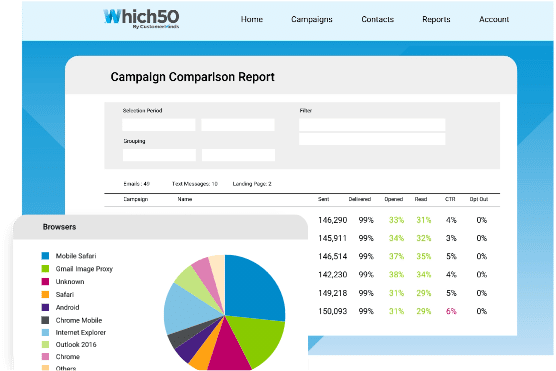 Campaign Reporting and Analytics made easier – across all sectors
No matter what your sector, Which50 has the reporting and customer experience analytics functionality you need to help optimise your customer communications.
Customer Testimonials
What others say
With customers worldwide, CustomerMinds is active across finance, telecoms and utility sectors. We are pleased to share what others say from around the world.
Finance
From a business perspective we needed to implement a certain project that our legacy system couldn't handle – research was carried out and we found CustomerMinds. Five years later and they are a really integral part of the bank – we can't function without them.
Utility
I think the greatest asset of Which50 is the flexibility of the product, and the potential it has to improve the customer experience, whilst saving time and resources internally.
Telecommunications
The main challenges that we were facing prior to CustomerMinds was linked to the limitations of our legacy business systems that meant creating customer communications channels proved difficult and time consuming.